«We still do not know how many bridges there are in France» headlines Le Point in an article written in June this year, following the publication of the information report by Mr. Bruno BELIN, on behalf of the Committee on Regional Planning and Sustainable Development.
This observation is rather worrying because for a sustainable management, the first challenge of a wealth manager is the knowledge of this heritage! [Here are the works of art]
As with the construction of a house, the foundations must be solid to last.
Once this heritage is clearly identified, the following issues can be addressed:
– Orientation and choice of a maintenance policy;
– Control of work implementation (construction + maintenance)
– Financial optimization of maintenance work
– Long-term monitoring and continuous improvement
This principle of asset management is paramount; the goal remains above all the safety of users! Le Point recalls the context of this request for a report that was launched "to prevent a tragedy similar to the collapse of the Morandi Bridge in Genoa on August 14, 2018, in France."
Virtuous Infrastructure Management Strategy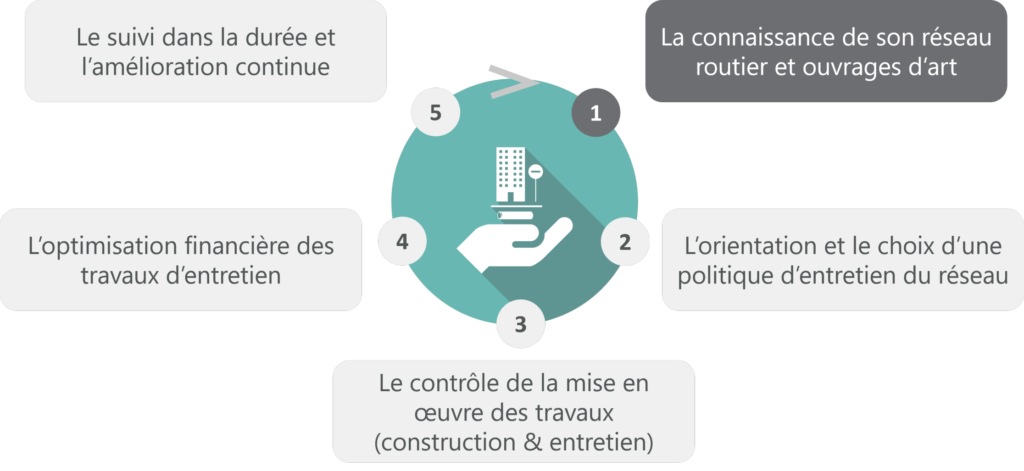 Stratégie vertueuse de gestion des infrastructures
Sources:
https://www.lepoint.fr/politique/on-ne-sait-toujours-pas-combien-il-y-a-de-ponts-en-france-19-06-2022-2480159_20.php
https://www.senat.fr/notice-rapport/2021/r21-669-notice.html
Would you like more information? Contact us!
Join us on LinkedIn: https://www.linkedin.com/company/nextroad/